Lily Cole: Bio, Age, Early Life, Boyfriend, Net Worth, Lifestyle and Diet
Lily Cole is arguably one of the most famous redhead models globally. She is renowned for her remarkable beauty and sleek body.
This article will dwell on Lily Cole's life with more emphasis on her bio, family, boyfriend, net worth, lifestyle, career, diet, education, and more.
Lily Cole Bio, Early Life, and Education
On December 27, 1987, Lily Cole was born in Torquay, Devon. Her father is James Cole, while her mother is Patient Sandra Owen. Lily and her sister were raised in London.
The redhead model was a student at Hallfield Primary School. She attended St. Marylebone School for her lower secondary education and Latymer Upper School for her upper secondary studies. Lily attended Sylvia Young Theatre School to study performing arts between her studies.
In 2006, she was admitted to Kings College, Cambridge, to study Social and Political Science. However, she ditched the degree to pursue another course. She graduated in 2011 with a degree in History of Art from Cambridge University.
Lily Cole Boyfriend
Lily Cole has been in multiple relationships. Lily dated Bray Ferry, Roxy Music singer, between 2008 and 2009. She also had a thing with actor Jude Law in 2008. She later got into a relationship with actor Enrique Murciano from late 2009 until their separation in 2011.
Between 2012 and 2013, Lily Cole was seeing Jack Dorsey, the co-founder and former chief executive officer (CEO) of Twitter. The model later got into a relationship with Kwame Ferreira, an entrepreneur, in 2013.
Lily and Kwame are still seeing each other. They have a daughter together called Wylde Cole Ferreira. However, they are not married.
Lily Cole Career
Lily Cole has an amazing career as a model, actress, and entrepreneur. She started modeling in the early 2000s for local fashion photographers, small companies, and media houses. Vogue Paris listed her in 2009 as one of the best models of the 2000s.
Lily made her first appearance on the cover of British Vogue at 16. In 2004, Lily was named the Model of the Year at the British Fashion Awards. She has worked for many leading brands and companies for more than two decades.
Concerning her acting career, Lily Cole started acting when she was 6. Lily's first leading role in a movie was in 2009 when she acted as Valentina in The Imaginarium of Doctor Parnassus. She has also acted in other films, including Snow White and the Huntsman, There be Dragons and Passages.
Lily is an avid entrepreneur. She founded Impossible.com, an innovation group aimed at providing solutions to creators. The model co-owns a bookshop in London and is an investor in the North Circular Company, a knitwear firm established in 2009.
She has also been featured in various music videos, including Clean Bandit's UK Shanty and Paul McCartney's Queenie Eye. Lily also works as an activist. Her activism is centered around promoting sustainability.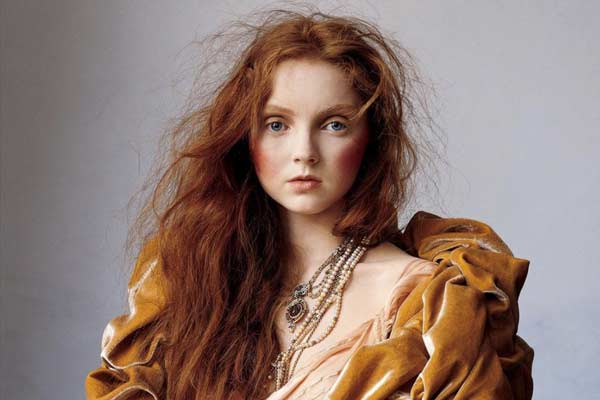 Lily Cole Net Worth
Lily Cole is estimated to have a net worth of $14 million. Much of her wealth is attributed to her career as a model, actress, and entrepreneur. She has also invested in many businesses in London and other places.
Lily Cole Lifestyle and Diet
The redhead model has a simple lifestyle. She observes sustainable practices to help conserve the environment. She mostly travels by train to reduce her carbon footprint.
Regarding her diet, Lily is a vegan. She tries to consume fewer animal products, below 5%, and support more sustainable businesses. 95% of her diet is vegan.
Lily Cole Appearance, Height, Weight and Body Measurement
As mentioned earlier, Lily is a gorgeous woman with red hair. Her height is 5 feet 10 inches, while her weight is about 59kg. Her breast size is 34 inches, her waist is 27 inches, and her hips 36.
She wears shoe number 9.5 (US), and her bra cup size is 32B.
Lily Cole Social Media
Lily is very active on social media. The redhead model has an Instagram account with 99k followers. She follows 1,040 accounts and has 286 posts only.
The model is also on Twitter, where she has 28.5k followers. However, the account is currently inactive. She has a Facebook account but doesn't post much.
Lily Cole Facts
Here are some interesting facts about Lily Cole:
She was in PETA's list of the "Sexiest Vegetarians of the Year" in 2013
She has English and Welsh ancestry
She is a pet lover
She became a vegan to help conserve the environment
She started acting at a very young age