Travis Fimmel: Bio, Net Worth, Girlfriend, Viking, and Scar
People still wonder if 42-year-old Australian former model and current actor and farmer Travis Fimmel are Scandinavian or living in Denmark, Norway, Sweden, or Iceland.
One of his most famous roles, legendary Viking Ragnar Loðbrók, has made him a well-known household name worldwide.
So, it's no surprise that between his striking physical features and fantastic portrayal of the character, some confusion exists about his heritage.
Fans also want to learn as much about his life as possible, including his net worth, true background, and other details.
Travis Fimmel Net Worth
His net worth from modeling and acting is estimated at approximately $3.5 to $5 million. His current yearly income is unknown.
Travis Fimmel Biography and Family
Travis Fimmel was born July 15, 1979 (Zodiac Sign: Cancer) with blue eyes and blonde hair to Chris and Jennie Fimmel near Echuca, Victoria, Australia. His father was a cattle farmer and raised Travis on a 5,500-acre Lockington dairy farm. His mother was a recreation officer for disabled individuals.
Travis Fimmel Height and Weight
Travis currently stands 6.0 feet (183 cm) tall and weighs approximately 190 pounds (86 kg). In his youth, he wanted to become an Australian rules footballer and even played for a while in Melbourne.
After an accident that resulted in a broken leg, he applied to the Royal Melbourne Institute of Technology for commercial architecture and engineering studies. Still, he didn't pursue his studies after he decided to travel internationally.
Travis broke into modeling and eventually an acting career after the roommate of a Chadwick Models' talent scout discovered him working in the Hawthorn suburb of Melbourne at a gym.
Travis Fimmel Career and How he Gains Professional Acclaim?
Travis Fimmel traveled in Europe and Asia. Hoping to become an actor eventually, he traveled to Los Angeles in 2000. He walked into LA Models barefoot with his sneakers hanging over one shoulder and only $60 in his pocket.
Talent agent Paul Nelson of LA Models said Hello! magazine that his physical features and sense of humor immediately made a huge positive impression.
The world-famous modeling agency signed him and offered him a place to stay and money to tide him over.
With Jennifer Starr's help, Travis eventually received a six-figure deal with Calvin Klein, the first instance of a male model securing such a lucrative and exclusive contract.
Travis Fimmel became the face of CK's underwear and Craved men's fragrance. By 2002, People magazine named him one of the sexiest bachelors in the world.
As demand grew, his face and name graced many billboards and magazine covers, and he made appearances on a variety of talk shows and in music videos, including cameos in videos by Janet Jackson and Jennifer Lopez.
His focus as a model remained on acting. He turned down a lucrative guest judge position for Australia's "Make Me A Supermodel" series.
He studied extensively under acting coach Ivana Chubbuck, who has mentored many famous actors like Brad Pitt, Charlize Theron, and Jared Leto.
Travis Fimmel Movies and TV Shows
By 2003, after building up his self-confidence and seeking auditions, Travis beat out hundreds of other actors for the role of Tarzan on the WB series of the same name.
His stunning appearance, acting, and stunts earned him a fan following and more film and TV opportunities.
In the following decade, he worked with big-name stars, including Lauren Holly, Madeleine Stowe, Richard Dreyfuss, Matthew McConaughey, Woody Harrelson, Billy Bob Thornton, Eva Longoria, and even Jessica Lange, Martin Landau, Peter Fonda, and Patrick Swayze.
Travis Fimmel Vikings
Although he steadily earned acclaim for his many roles, especially his 2010 performance as a classical pianist in the independent film "Ivory," Travis didn't receive a global fan following until he appeared in 2013 as Ragnar Loðbrók in History's "Vikings" TV series.
His physical appearance, acting skills, and unique take on the amalgam of a real-life historical figure and a fictional character resulted in Laura Prudom of Huffington Post referring to it as his "breakout role."
How Much Did Travis Fimmel Make from Vikings, and Why Did he Leave Vikings?
During his time on "Vikings," Travis made approximately $400,000 per episode. The amount he earned is unknown, but he had an estimated total salary of $18 million by the time he left the series.
Travis Fimmel was written out of "Vikings" because the real Ragnar Loðbrók died historically around the same time as events presented in the series, and he was also ready to move on to new projects.
Since the end of that role, Travis has been in several films, including "Warcraft," "Lean on Pete," "Finding Steve McQueen," "Danger Close: The Battle of Long Tan" and "Dreamland." He was also named GQ Australia's 2017 Actor of the Year in the magazine's Men of the Year Awards.
After he learned of Ridley Scott's involvement, Travis recently returned to TV in HBO's "Raised by Wolves" for HBO Max. He had sworn off TV roles because he didn't want to have to make a long commitment, as he told Lauren Sarner of The Post in 2020.
He said that he didn't even read the "Raised by Wolves" script because he had "no choice" since working with Scott was "an actor's dream."
Although Travis prefers working on films, he plans to eventually write, produce and star in a TV series about Wyatt Earp for History. He has been forced to set the project aside because of the pandemic.
The only other series he would like to work on as a director is the new Netflix "Vikings" spinoff series titled "Valhalla," which interests him primarily because it gives him a chance to spend time with the crew that he loves and misses.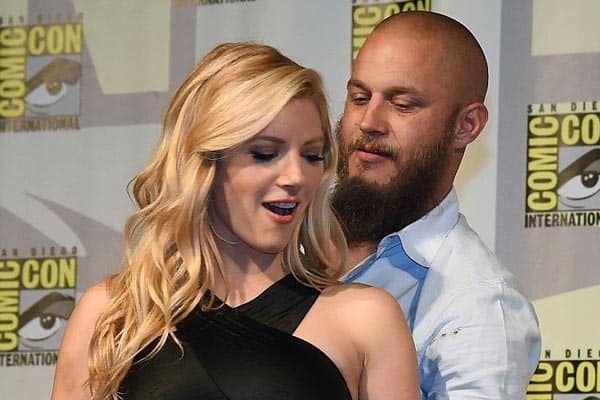 Travis Fimmel Girlfriend
It's currently unknown if Travis Fimmel has a girlfriend, spouse, or partner. However, his past dating history and statements made during interviews imply that he's single, straight, and still looking for the right person to become his life partner.
He has previously been seen out and about over the years with a variety of actresses, models, and his co-star Katheryn Winnick in what appear to have been one-off dates and short relationships. He has also implied that he's interested in women who don't know much about his career.
Does Travis Fimmel Have a Kid?
Travis Fimmel has no known children from any past relationships. That said, he is a proud uncle. His two older brothers work as miners in Western Australia, and both have children.
Travis Fimmel Religion
In regards to his religious beliefs, Travis told Entertainment Weekly in 2016 that he's a "big" Atheist. Travis Fimmel even pushed for Ragnar Loðbrók to be represented as one by the time of the character's death because he felt it was fitting since many Vikings historically renounced their gods.
Travis Fimmel Motorcycle Accident and Scar
In 2019, Travis surprised many people when he appeared at a red carpet-event in Geneva with a large scar below the corner of his right eye and down his cheek.
He is a known motorcycle enthusiast and told the press and others that he had a motorcycle accident that resulted in the deep, dramatic mark.
Travis Fimmel Workout and Diet
Travis Fimmel's diet includes a mix of grains, fruits, vegetables, and meats. As a result of his farm upbringing, he already had a Scandinavian-like diet of fish, steak, and vegetables before joining the series and merely had to remove bread and pasta from it.
His bodybuilding and maintenance routine includes work on his ranch, a mix of gym training, and whatever training is required for a film or TV role.
When not working out, Travis spends time on his ranch, located outside Los Angeles.
As he informed Sarah Larson of The New Yorker in September 2020, he has been renovating, installing fencing, and planting shade trees while off work because of COVID-19.
His farm features a mix of native and Australian animals and plants, including cattle, emus, horses, mulberry, eucalyptus, and peppercorn trees.
Travis Fimmel noted in that interview that he would rather be on his farm than "putting on makeup and playing make-believe." This isn't the first time he's indicated in interviews that he considers acting a means to an end rather than his passion, even though he has spent a lot of time, energy, and study honing his skills.
He has also indicated that he would prefer to be known for his acting rather than his former modeling career.
His other favorite activities include Australian rules football, cricket, camping, hiking, walking, fishing, horse riding, visiting beaches, swimming, surfing, and rowing. He also loves nature and trees.
Where Can You Find Travis Fimmel Online?
In 2014, Travis told May Seah of TodayOnline.com that he didn't use Instagram or Facebook because he was a "quiet person."
He admitted that he understood that some people needed to share their lives online, but he didn't want his life, which he considers uninteresting, all over the internet.
By January 2019, he shocked fans when he set up a social media account on Instagram under the username @travisfimmel. He included a picture of himself with a greeting written across his forehead.
Yet, although Travis Fimmel has 2.6 million Instagram followers as of January 2022, he has only posted six times and followed one other user.
Several unofficial fan accounts have popped up with an "official" description over the years, but none is the star's account.
His Instagram is the only social media account attached to his name marked with a blue Verified Badge checkmark.